Juliane Marie Skarning 1838-1894
Fra klokkerbok Oslo, Garnisonsmenigheten 1838
dåp nr 38 Juliane Marie født 06.05.1838 døpt 08.07.1838 Uægte
Pigen Marthe Andersdatter og barnefaderen efter eget opgivende ungkarl og jæger Johan Christian Hansen.
Han vil ægte pigen.
Det går 4 år før de gifter seg.
Fra ministerialbok Nes 1842 (Raumnes Historielag)
vigsel 23.03.1842 Johan Christian Hansen Scharningeie 23 år
Marte Andersdatter Fallet 34 år [1808]
far Hans Carelsen
far Anders Olsen
Fra ministerialbok Nes 1847
Inn- og utflyttede 1846-1847
Flytter til Christiania 15.04.1847
Johan Christian Hansen Flagstad 17 Nov 1818
Marte Andersdatter 2 Oktober 1808
Juliane Marie født i Christiania
Hans August født i Næs 26 November 1842
Peter Torvald født 14 August 1845
Fra ministerialbok Akershus, Aker prestegjeld, Oslo og Oslo hospital menighet 1852
konfirmant 03.10.1852 nr6 Juliane Marie Johansdtr f 06.05.1838 døpt 08.07.1838 Christiania
foreldre Pigen Marthe Andersdtr og Jæger Johan Christian Hansen
Fadder
Fra ministerialbok Østre Aker, Akershus 1863
dåp nr 126 Anne Mathilde Birgitte f 13.10.1863 døpt 22.11.1863
far Tomtearbeider Hans August Johansen
mor Margit Olsdatter
Bagerengen
faddere Kristian Nielsen, Petter Johansen, Juliane Johansdatter, Sørine Johansdatter, Barnets Moder
Fra ministerialbok Østre Aker, Akershus 1866
dåp nr 25 Carl Johan f 22.02.1866 døpt 25.03.1866
far arbeidsmand Hans August Johannesen
mor Marie Olsdatter
Bagerengen
faddere Petter Johannesen, Juliane Johannesdatter, Sørine Johannesdatter, Faderen, Moderen
Fra FT 1865 Østre Aker
Johan Skarning 47 Raumanæs huseier, lokomotivpusser
Marte Andersdatter 57 Raumanæs
Juliane M. Skarning 27 Kristiania
Sorine A. Skarning 18 Kristiania
Bagerengen
I 1843 har Morgenbladet et innlegg der en hjemvendt emigrant forteller om sin reise til og opphold i Nordamerika.
Morgenbladet 1843.03.09
Juliane Skarning, 29 år, er registrert i Digitalarkivet som emigrant med reisemål Chikago, utreisedato 10.07.1868. Hun reiser sammen med sin søster Sørine Andrine (Serine), 20 år.
Hun blir i USA gift 07.02.1869 med Abraham Andreasen Kathrineberg f 1839 i Horten, Norge.
Kilde newspapers.com 21.08.1908
Abraham Kathrineberg was born in Horton, Norway, October 5tb, 1839, and died at the St. Joseph Hospital, Kansas City Mo., August 4th, 1908. He came to America in 1865 and located in Chicago, 111. He was married to Juliana Marie Skarning Feb , 7th, 1869. To this uinlon were born eight children, six of whom are still living. He, with his wife mbved to Kansas in 1871 and settled in Republic county. He has made his home in Kansas City Missouri, for the past five years. Prior to that time he had lived in Scandia. While here he was a member of the United Brethren church. Funeral servises were held in tbe Presbyterlan church conducted by Rev. H. A. Zimmerman. The remains were laid to rest in the Prairie Rose cemetery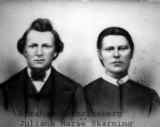 Barn: Charles August 1870-1937, Peter 1875-1936, John 1879-1944, Henry f 1880, Nellie D 1882-1961, Martha 1884-1952
Ekteparet flyttet fra Chicago til Republic county, Kansas i 1871.
Fra United States Census, 1880
Abraham Kashrineberg 41 Norway
Julia Kashrineberg 42 Norway
Charles Kashrineberg 9 Illinois,United States
Peter Kashrineberg 4 Kansas, United States
John Kashrineberg 2 Kansas, United States
Martha (Julias mor) 72 Norway
Bopel: Union, Republic, Kansas, United states
Hun dør 17.01.1894 og er gravlagt på Prairie Rose Cemetery, Republic county, Kansas, USA. Navn Julia Kathrineberg.
Julia Kathrineberg (1838 - 1894) - Find A Grave Memorial